Fluorescein -labeled anti-Cryptosporidium antibody | TBS22111
SKU:

TBS22111

UPC:

MPN:

Availability:

In Stock

SIZE:

1 ml
Frequently bought together:
Description
Fluorescein -labeled anti-Cryptosporidium antibody | TBS22111
This product utilizes the principle of direct immuno-fluorescence assay. The product contains fluorescence labeled monoclonal antibodies against the wall antigens of Cryptosporidium spp. oocyst. The reagent is 1 ml of 1× working solution of fluorescein-labeled anti-Cryptosporidium spp.
oocyst wall monoclonal antibody solution.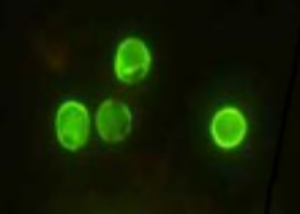 Applications:
This reagent is used for detecting Cryptosporidium spp. oocysts by direct immuno-fluorescence assay from fecal, water, and environmental samples.
Storage conditions:
The expiration date of the reagent is indicated on the label. To maintain optimal performance, the reagent should be stored at 2°C-8°C and returned to refrigerator promptly after each use. Caution: Do not freeze.
View All
Close